Now that parties are back you can throw an event for your little one and their special guests at Little Farmers! We are gearing up for all of your parties in 2022, so now is the perfect time start planning.

At a Little Farmers party, the kids will have their own private party room with yummy party food and drink, access to the adventure farm park and a VIP meet the animals experience!

Read on to find out what is included in a Little Farmers Party…
Party Rooms

At Little Farmers our party rooms are farm-themed (of course!) and come complete with decorations, tablecloths, jugs of juice and cups, balloons, and a birthday banner!

We are happy to host between 10 and 30 children, with one adult per child who can accompany them into the play area for free and two adults for the birthday child.

Each party room is fully accessible to the play area and you will have exclusive use of the room for the duration of your party.

Adventure Play

Are you ready for the main event?

The kids can play and roam freely in our 20,000 sqft indoor and outdoor play areas!

Indoors we have the stunning bespoke wooden play-barn equipped with everything the kids could hope for! A climbing frame, slides, spinning apples and a bridge to clamber across. As well as being oodles of fun it is a full sensory and developmental experience that will light up children's imaginations!
If the weather is playing ball, then the kids can also run wild in the outdoor sand and water messy play yard!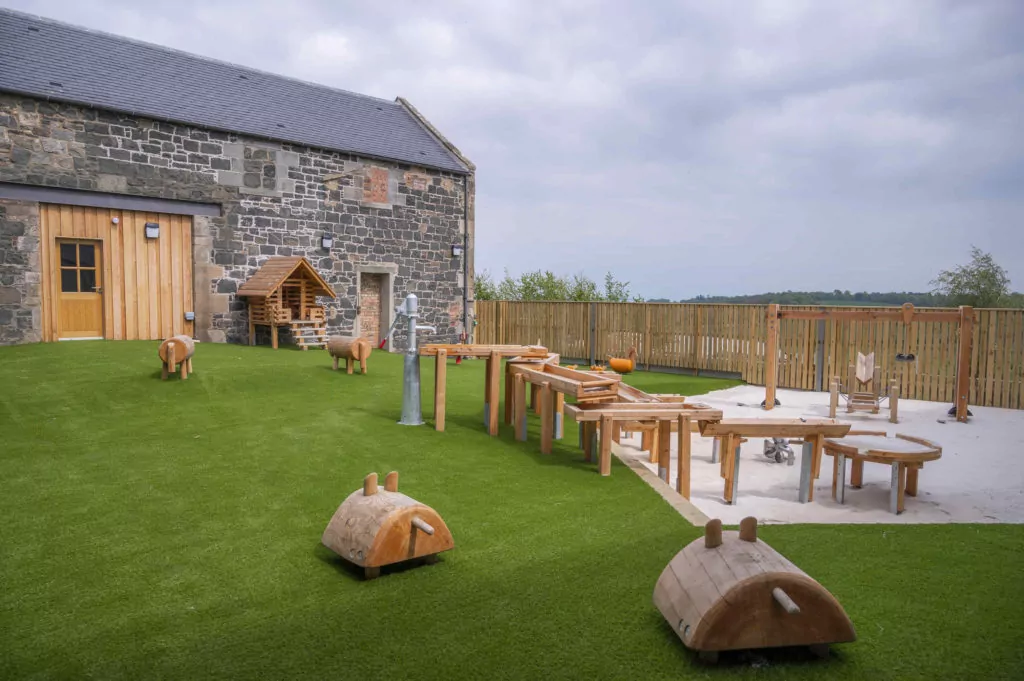 VIP Animal Experience
You might have been along to meet the animals at Little Farmers before but when you are a party guest the experience is VIP!
Not only could the kids get to say hello to the Shetland ponies, pigs, sheep, pygmy goats and Clydesdale horse – they can choose to get up close to one, for a groom and a cuddle! You get to confirm your animal of choice at the checkout stage when booking your party.

Your party will have a personalised experience with the animals, so you can choose which of the four-legged friends they would like to go nose to nose with.
Party Food
If you have visited the Craigies or Little Farmers Cafés then you will know that our food is healthy, locally sourced and delicious!

Each of your special little guests will get their very own Party Picnic Box that includes a Ham or Cheese Sandwich, a piece of fruit, jelly, yogurt, crisps and a bottle of juice. *Subject to change depending on availability.

Are any of the kids veggie, vegan or gluten free? Don't worry! We have options to suit a range of dietary needs and the kids won't go thirsty with an unlimited supply of squash and water for the duration of your party!

What about the cake?! If you are a keen home baker then you are welcome to bring a homemade cake along, otherwise you can order a cute custom birthday cake, made fresh to order at Craigies.


Little Farmers Parties FAQs
Still have questions about our parties? We have put together these FAQs from our previous party guests to help you out!

Q. What is the Minimum/Maximum number for a kid's party?
– The minimum number of children for a private party room is 10, the maximum number is 30.
Q. How many adults are allowed to attend?
– Little Farmers Parties can allow a maximum of one adult for each child, the birthday child is allowed two adults. Additional adult tickets can be purchased online. There are only children's seats in the party rooms.
Q. How do you book a party?
– From 2022, you can book and prepay your own party slot online.
Q. How long does a party last?
– A party lasts 2.5 hours.
Q. Can you bring decorations for the room?
– The table in little farmers party rooms will be dressed, with a tablecloth, a banner, and balloons. You are welcome to bring your own decorations (to ensure there is no damage only blu-tack can be used on the walls).
Q. Can you bring a Piñata?
– Yes, you can, however only a thumb tack is allowed.
Q. Do you have something to play music on?
– Yes, we have a CD player, or a radio you can hook up your playlist to. Just let the team know.
Q. How many slices does the piggy cake serve?
– The party piggy cake can serve 12-20, and you can have a personalised message iced on.
Q. Can you bring your own cake?
– Craigies bakehouse can bake you a fresh party cake to order, or you are welcome to bring in your own creations.
Q. What is in the party bags?
– Little farmers party bags consist of a colouring book, crayons, stickers, picture frame and a toy from the Little Farmers Toy Shop.
Q. Can you cut the cake?
– Craigies can provide a cake knife and plates for the cake. As well as napkins, should you wish to pop them into the party bags.
Q. Can you cater for special diets?
– Yes, the kitchen at Craigies Farm can cater for all dietary requirements. Please inform the team of any dietary requirements at least 1 week prior to your party.
Q. What does the animal experience involve?
– The animal experience is subject to change, but currently involves each child at the party allowed to groom your selected animal, Farmer Matt gets all the children involved, and provides lots of fun facts about the animals.
Q. Is there any dress code for children?
– Comfortable clothing, long sleeves/trousers, shoes can be worn in the timber play area.
Q. Do you have to wear a mask?
– Adults will need to wear a mask when walking around, however when sitting down and eating a mask is not required.
Q. Can adults use the equipment also?
– Yes, the timber play barn in an interactive area for all the family.
Q. Is the timber play inside or outside?
– Both, the main play area is indoors near the café, and the exciting sand and water area is outside, where they can make a splash!
Q. When are final numbers due?
– Final numbers and any dietaries need to be confirmed at least 1 week before the party.
Q. What is the cancellation policy?
– Parties are non-refundable, we will however endeavour to move your booking to a different date, subject to availability.


What are you waiting for? If you are ready to start planning your little ones party in 2022 you can book your party here!